ADU Reports on the Woke Takeover at USD
Introduction: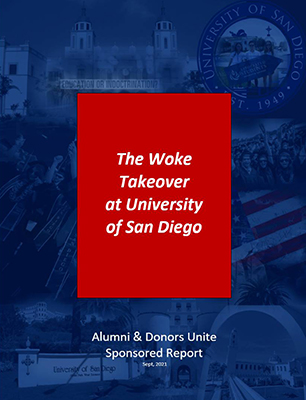 The case of University of San Diego (USD), analyzing how there is a Woke Takeover occurring rapidly since 2020, is well explained in the detailed PDF report and as well in the links below. This report analyzes in depth how the woke takeover was begun and how terms like critical social justice (CSJ) and Diversity Equity and Inclusion (DEI) are implemented and accurately defined. CSJ/DEI explained.
Sections of the Report
More News and Events/Files:
Recent article on our efforts from Claremont Institute's American Mind. DEI vs. USD The woke blob swallows the University of San Diego. This is an accurate synopsis of the Woke Takeover of the University of San Diego report.
Also, the National Association of Scholars, one of the most prestigious academic think tanks in the US is publicizing the report--and Alumni and Donors Unite. The Woke Takeover at USD, Plus a Call for Researchers. highlights our work, and the need for forces outside academia to act to unite and pressure institutions to reform. Our model is simple: inform, organize, use all leverage points to force reform. See The Case for details on the model.
Stay in touch also with the latest events and documents occurring at USD, and a digest as to how DEI/CSJ has progressed at USD.
Decision Makers and Improving Conditions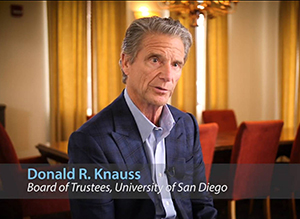 The decision makers, in the case of a private school like USD, are the Trustees and the Administration. The Trustees have stated (see the video link on the pic at right) that the "success of every student" is their priority. The efforts by ADU at USD is all about empowering the customers in having a stronger voice about how the students are shaped into a path to success, or does this take on another agenda?
One key step in this step forward is to be sure that the Trustees understand what exactly is happening and that they are held accountable for their decisions. The voice of the customers needs to be heard. These reforms take time. Concerted efforts on the part of all of the customers (students, parents, alumni, and donors, professors, even community members) are needed to have a unified voice. If you are in any of these groups, go to the engage link above and see how you can join the reform.
Call to action for customers:
Please study the accompanying report and look at the last section entitled "Now what? Next steps." Nothing will change unless there is unified action from the customers.
Contact us and join ADU's actions to reclaim freedom of thought and open inquiry. Jointly, we can restore USD and similar institutions that are deviating from their educational mission.